2016, Changing Hands,
SMITH, Cape Town


Changing Hands consists of compositions of ostensibly abstract forms, produced by a self-generated process which is underpinned by the human relationship with objects; and the attempt to relieve artwork from its context.

Her work is based on an object which runs through an experiment, which involves the flattening of three dimensional items into unpredictable two dimensional forms. From there, her process becomes loose, shapes are intuitively arranged into compositions, and colour is chosen instinctively, by choosing contrasting combinations on the shop floor.


Smug, 2016
Classic Rooms, 2016
I Saw You Coming, 2016
Acrylic on paper, 99 x 99c
The subject of her work is always an object, personal or found. An object without context cannot speak for itself, and therefore when being engaged with, inevitably, the beholder will establish their own understanding of its relationship to the world, overwriting any history or significance that it may have had. Its story is completed by the viewer, much as in art; where the viewers subjective perception is the only real experience, regardless of the artists intentions.

Part Time, 2016,
Acrylic on paper, 40 x 40cm

Modern Materials, 2016,
Acrylic on paper, 40 x 40cm
The Parking Lot, 2016
Office Furnishing, 2016
Victoriana, 2016
Acrylic on paper, 80 x 80cm
'If the viewer where to know what the object was, the illusion would be broken and process exposed. The audience would not be able to see anything beyond what they then knew, even its the significance would not matter, the power of the imagination hindered. The baggage of its context preventing the viewer from having ownership over its meaning.'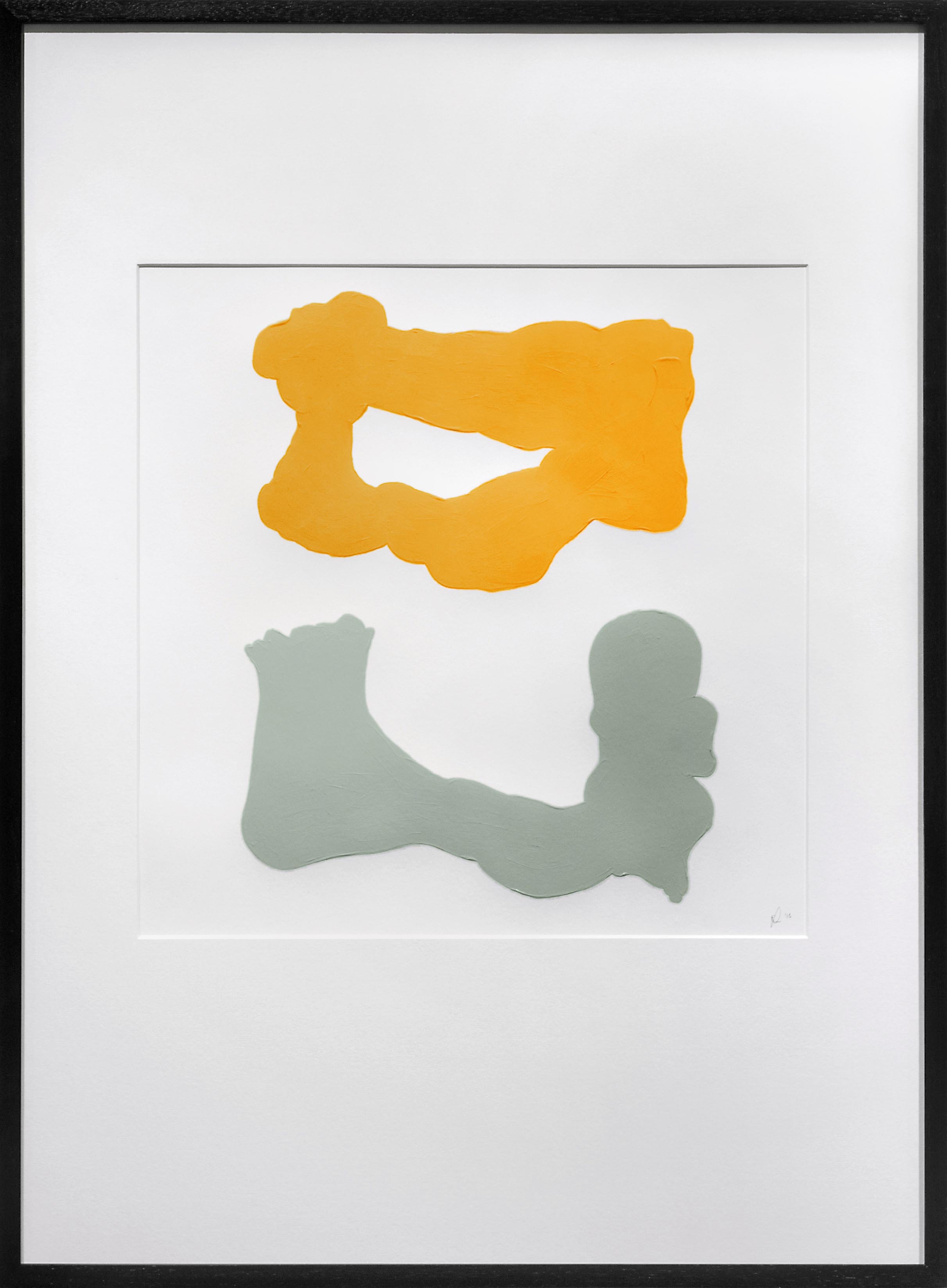 Night Class Week Three & Souvenir, 2016, Acrylic on paper,
40 x 40cm
Guest of Honour, 2016
Acrylic on paper,
75 x 40cm

High Arch, 2016
Acrylic on paper,
55 x 40cm
Through its lifespan, the featured object evolves from a physical item, into a flattened shape, and finally into a composition hung on a wall. Its past becomes irrelevant and it is only 'genetically' related to the final piece, the resemblance being purely physical. The spotlight of significance moves with each change of context.
House-Warming, 2016
Self Grooming, 2016
North Facing, 2016

Linocut on paper,
Edition of 5 + 1 AP

The objects systematic evolution starkly contrasts the viewers engagement of the final piece, being immediate and intuitive. This is the delicate balance, ensuring enough degrees of separation to require the viewer to complete the story themselves, uninfluenced by its context; allowing access for unhindered interpretation.

Text by Matthew Freemantle
Scrubs, 2016
Cotton, 260 x 120cm

Captive Audience, 2016
Linen, 260 x 120cm

Spelling Error, 2016
Linen, 260 x 120cm